Self Service Car Wash Equipment in Texas
Texas Car Wash Equipment is proud to carry Gin San Self Service carwash equipment. Whether you want a 2-bay or 10-bay configuration, we can help you configure your self-service bays with the right components and features.
Standard Features
Stainless Steel High-Pressure Overhead Boom
Steel Foam Brush Boom
Molded High Impact Plastic Chemical Tanks
Full Color Bay Menu Board
Safety Trigger Guns, Plastic Lance & Tip Protectors
3/8" Steel Braid Hose
Arimitsu Pump w/ Brass Fittings
Toshiba 5HP-3PH ODP High-Efficiency Motors
Stainless Steel Control Box
Freeze Protector - Flow Adjustable
Pressure Regulator
Stainless Steel Check Valves
Standard Wash Functions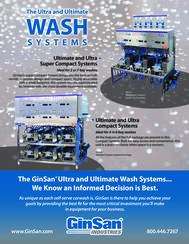 High Pressure
Soap
Rinse
Wax or Clear Coat
Low Pressure
Foam Brush
Pre-Soak
Foaming Tire Cleaner
Engine Cleaner
Features of GinSan Self Service Equipment
Self Service Wash Systems
Specifically designed to meet the needs of self-service car wash operators. GinSan Wash Systems provide proven technology coupled with reliable service.
Meter Boxes
Innovative and secure, GinSan Meterboxes are engineered with the latest technology, offering customers the ability to use coins, tokens, bills and credit cards. All GinSan meterboxes are constructed of stainless steel and are built to a standard of security proven in thousands of units.
Electronics
Customer satisfaction and profitability come together through the latest technology with GinSan display timers, electronic timers and coin acceptors.